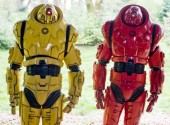 Clyde and Rani wake up one day to discover that they are the only survivors of the human race, as the alien-busting adventures series continues. The whole of Earth is empty – even Sarah Jane has vanished. But a deserted London holds terrors of its own. Strange forces lurk in the shadows, as mysterious visitors approach…
Clyde and Rani meet their enemy as the Robots arrive on Earth – but what do they want, and where has the human race gone? It's a race against time, but without Sarah Jane's expertise, Clyde and Rani must trust each other like never before if they're to save the whole world.
Behind the Scenes
Edit
This episode was filmed in Newport, South wales.