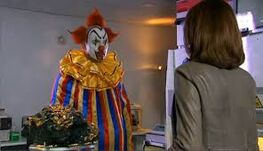 The Day of the Clown is the second episode of Series 2. It introduces Rani Chandra.
This episode starts off with Maria's voice and then Clyde waltzes in saying that new people moved into the Jackson's house
To be adOddbob ded.
Notes and Trivia
Edit
New Characters
Edit
In this episode The Sarah Jane Adventures introduce three new characters. Rani Chandra is introduced as one of the new main characters, who replaces the former Maria Jackson. She has two parents their names being Gita Chandra and Haresh Chandra. 
Filming Locations
Edit
To be added.
To be added.
Continuity
Edit
To be added.
External Links
Edit
To be added.
References
Edit
Community content is available under
CC-BY-SA
unless otherwise noted.