Biography
K9 is Sarah Jane's robot dog who assists her in her battles.
Personality
to be added
Other Information
K9 has never got on with Mr Smith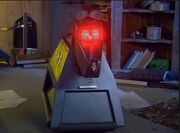 Behind the Scenes
K9 was seen throughout the series but was not a regular character that was until series 3 came around. It was announced that some arrangement was made between Bob Baker and BBC to use the character on a regular use.
External Links
Community content is available under
CC-BY-SA
unless otherwise noted.